Guilt is a powerful means to direct our hearts back to God. It also serves as a source of social protection. Our carefree culture might downplay its value, but through the Sunnah we can tap its spiritual potential.
Dr. Asad Tarsin
Asad Tarsin has been designing Islamic educational programs and teaching the basics of Islam for more than a decade. After completing his bachelor's degree in Islamic studies at the University of Michigan in Ann Arbor, he continued his study of Islamic theology, sacred law, philosophy and spirituality with some of the country's most prominent Muslim scholars including Shaykh Hamza Yusuf and Dr. Sherman Jackson, among others. He has served as the curriculum director for the Deen Intensive Foundation for the last ten years and has a particular interest in creating sustainable models of education for new and returning Muslims. He lectures and teaches courses on Islam across the country. Being Muslim: A Practical Guide is his first published work. He is an emergency physician by training and lives in California with his wife and three children.
Dr. Fareeha Khan
Dr. Fareeha Khan is a scholar of Islamic intellectual history, with a strong interest in how the classical Islamic disciplines of law and spirituality continue to provide meaning and ethical direction for Muslims in the modern age. She is founding member of the Sila Initiative, through which she writes and teaches with the aim of helping Muslims embrace the social teachings of Islam by rethinking modern individualism. She has published on topics related to women, family, Islamic Law and Sufism, with a particular focus on modern South Asia in her academic work. Dr. Fareeha holds an MA from the University of Chicago in Middle Eastern Studies and a PhD in Islamic Studies from the University of Michigan. She is an affiliated scholar at Willamette University (where she has also served as assistant professor) and served as Advisory Editor for the Oxford Encyclopedia of Islam and Law. Born and raised in Chicago, she now lives with her husband Ibrahim Mansoor in Jeddah, Saudi Arabia.
Location: 
If flyer says MAC centre please note we have moved event back to MCWS
Medina Activity Centre
40440 W PALMER RD
Canton MI 48188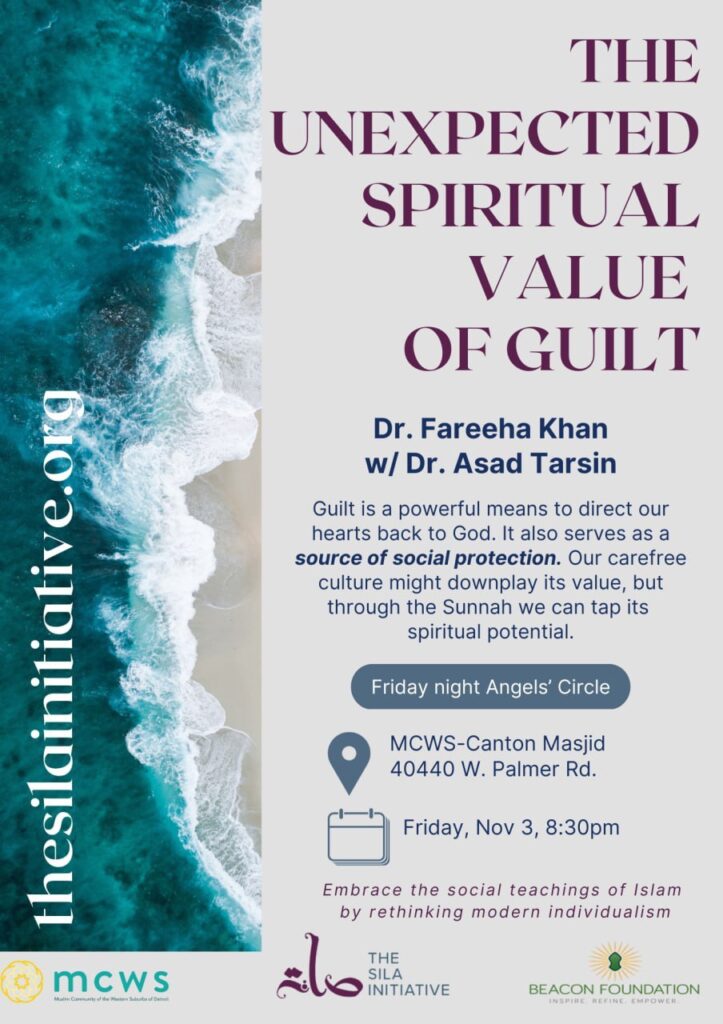 Ladies only event.
If flyer says MAC centre please note we have moved event back to MCWS