"None of you truly believes until his desires are in line with what I have brought" – Prophet Muhammed ﷺ
An important seminar dealing with modern ideas on sexuality and their righteous Islamic alternative.
Join us for the Sila Initiative's first Annual Seminar on Social Issues, focused on desire and responsibility.
In this seminar, we will discuss:
* how modern Western ideas on desire and sexuality have departed from a religious view
* the Islamic conception of desire
* the Prophetic model for pursuing desire while upholding one's responsibility to Allah and to one's spouse
* how righteous men and women of this ummah have followed the Prophetic example on desire and responsibility 
* how we as 21st century Muslims can embody the Prophetic example of sexual responsibility in our private and public lives
Dr. Fareeha Khan
Dr. Fareeha Khan is a scholar of Islamic intellectual history, with a strong interest in how the classical Islamic disciplines of law and spirituality continue to provide meaning and ethical direction for Muslims in the modern age. She is founding member of the Sila Initiative, through which she writes and teaches with the aim of helping Muslims embrace the social teachings of Islam by rethinking modern individualism. She has published on topics related to women, family, Islamic Law and Sufism, with a particular focus on modern South Asia in her academic work. Dr. Fareeha holds an MA from the University of Chicago in Middle Eastern Studies and a PhD in Islamic Studies from the University of Michigan. She is an affiliated scholar at Willamette University (where she has also served as assistant professor) and served as Advisory Editor for the Oxford Encyclopedia of Islam and Law. Born and raised in Chicago, she now lives with her husband Ibrahim Mansoor in Jeddah, Saudi Arabia.
Imam Dawud Walid
Imam Dawud Walid is currently the Executive Director of the Michigan chapter of the Council on American-Islamic Relations (CAIR-MI) and member of the Imams Council of Michigan. He has studied under qualified scholars the disciplines of Arabic grammar and morphology (al-Nahw wa al-Sarf), foundations of Islamic jurisprudence (Usul al-Fiqh), Prophetic narrations (al-Ahadith al-Nabawiyyah) and sciences of the exegesis of the Qur'an ('Ulum Tafsir al-Qur'an). He previously served as an imam at Masjid Wali Muhammad in Detroit and the Bosnian American Islamic Center in Hamtramck, Michigan. Some of his writings include the books Futuwwah and Raising Males Into Sacred Manhood, Blackness and Islam, and Towards Sacred Activism. Imam Dawud has lectured at over 100 institutions of higher learning in North America, Great Britain and West Africa about Islam and social justice as well as spoken at the 2008 and 2011 Congressional Black Caucus Conventions alongside prominent speakers such as the Rev. Jesse Jackson and former Congressman Keith Ellison.
Dr. Asad Tarsin
Dr. Asad Tarsin has been designing Islamic educational programs and teaching the basics of Islam for more than a decade. After completing his bachelor's degree in Islamic studies at the University of Michigan in Ann Arbor, he continued his study of Islamic theology, sacred law, philosophy and spirituality with some of the country's most prominent Muslim scholars including Shaykh Hamza Yusuf and Dr. Sherman Jackson, among others. He has served as the curriculum director for the Deen Intensive Foundation for the last ten years and has a particular interest in creating sustainable models of education for new and returning Muslims. Dr. Asad lectures and teaches courses on Islam across the country. Being Muslim: A Practical Guide is his first published work (an excerpt of which appears on the website of The Sila Initiative). He is an emergency physician by training and lives in Michigan with his wife and three children.
S. Fatima Quadri
Ms. S. Fatima Quadri is an educator certified in the areas of secondary/middle school education, history, and reading. For more than a decade she has served as an educator in parochial and public schools. Ms. Quadri has also taken Islamic Studies courses under the guidance of traditional scholars from institutions such as Salihah Central and Kiflayn. She has conducted several programs for youth and children, including the youth engagement initiative Sisters Steppin' Up. Fatima is a member of the Sila Initiative and has actively been incorporating Sila's materials (critiquing contemporary individualism) within the curriculums she designs. She is the founder of the educational program Darus Salah and lives in Chicago's northwest suburbs with her husband, mother-in-law, and two children.
Location: 
Medina Activity Center (MAC)
1905 S Haggerty Rd.
Canton MI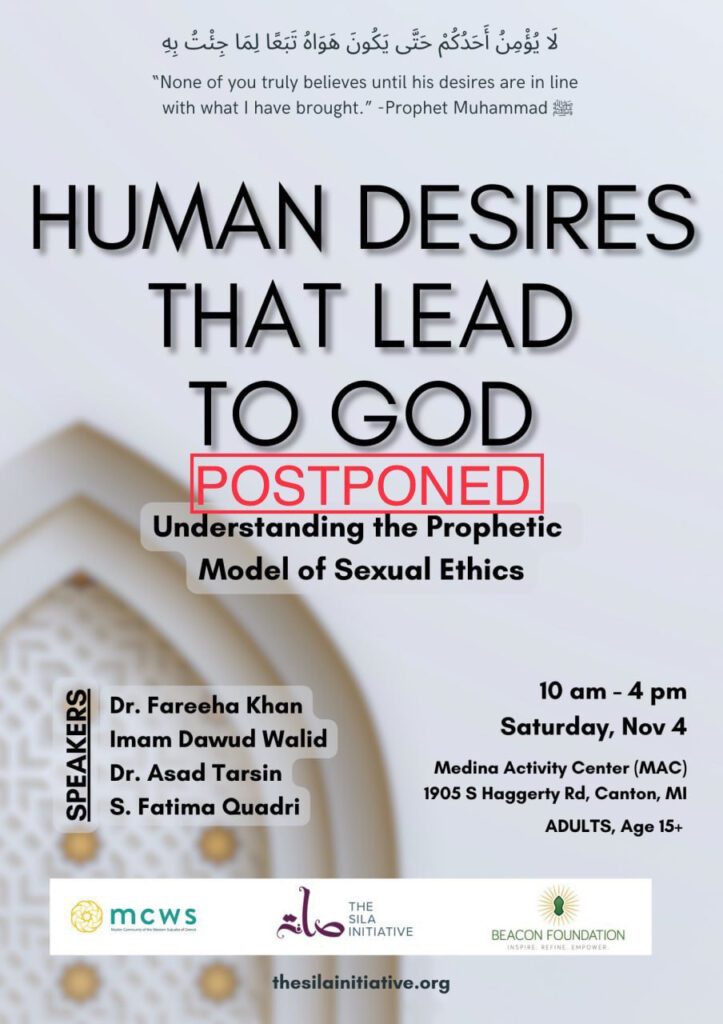 https://www.eventbrite.com/e/human-desires-that-lead-to-god-seminar-tickets-718007508787?aff=oddtdtcreator 
Time/Date:
Saturday, Nov 4, 10am
Location:
Medina Activity Center (MAC), Canton, MI